Supplement Spotlight: Tracy Anderson Chocolate Mint Protein Bars
Tracy Anderson Clear Chocolate Mint Protein Bars provide the protein, natural sugars and nutrients to help you feel satisfied, and support your journey toward achieving balance in your body.
Made with organic sunflower butter, pea protein and chocolate, these nutrition bars were created by Tracy Anderson, a leading health expert and creator of the Tracy Anderson Method, a revolutionary fitness and nutritional methodology.
• 14 grams of protein per serving
• 13 grams of fiber
• Formulated with collagen
• 5 grams of sugar
• Naturally sweetened
• Soy and gluten free
• Non-GMO
• 5 bars per box
nutrition information
Serving Size: 54g

Serving Per Container: 5

Amount Per Serving

Calories:

250

Calories from Fat:

110

---

---

---

% Daily Value*

Total Fat

12g 

18%

Saturated Fat

2.5g 

13%

Cholesterol

0mg 

0%

Sodium

10mg 

0%

Total Carbohydrate

21g 

7%

Dietary Fiber

13g 

52%

Sugars

5g

Protein

14g

Vitamin A

0%

Vitamin C

0%

Calcium 

2%

Iron 

15%

Trans Fat

0g

MetricServingSize

54g

* Percentage of Daily Values are based on a 2,000 calorie diet.

---

---

---
Ingredients:
Organic Fiber Syrup, Organic Sunflower Butter, Organic Pea Protein, Organic Sunflower Seeds, Pea Crisps, Organic Cocoa Powder, Natural Flavoring, Collagen, Organic Nuvous (Organic Inulin, Organic Stevia Extract, Organic Lycii Berry Extract, Organic Orange Flavors), Matcha Green Tea Organic Chocolate Coating: (Organic Chocolate, Organic Evaporated Cane Juice, Vanilla).
Allergens & Warnings:
Allergy Information: Manufactured in a facility that processes nuts, tree nuts, peanuts, seeds, soy, wheat and dairy (milk). Caution: Contains honey, fish, collagen. May contain pieces of nuts, stems, nut shells or seeds.
Company: Tracy Anderson
Brand: Chocolate Mint Protein Bars
Origin: USA
Category: Supplement
Packaging: 5 bars
Claims: High source of protein, naturally sweetened , formulated with collagen.
Variants: View Full Range Here
Price: $6.99
Where to Buy: Buy Online
Website: http://tracyanderson.com/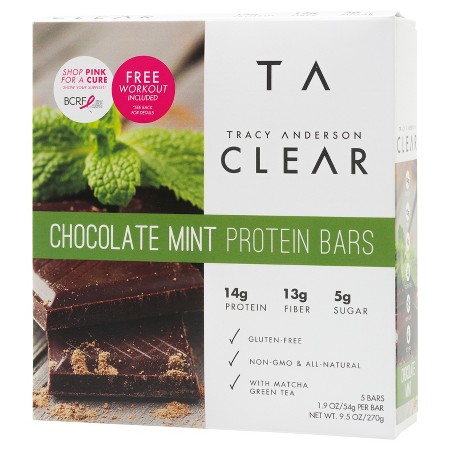 TrendMonitor Visitor Rating:
Product rating: